Inmate Record Check
Arrests, Mugshot, Recent Bookings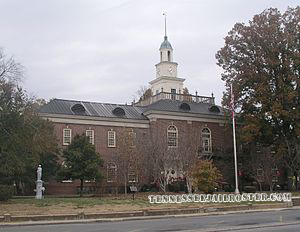 Perform a free Fayetteville Tennessee arrest records search, including mugshots, jail roster, recent arrests, and active booking logs.
The Fayetteville Police Department is a law enforcement agency located in Tennessee. The department is composed of 4 divisions: bicycle patrol, criminal investigations, K9 and SORT. The bicycle patrol division is responsible for patrol during events hosted by the city and the schools. The officers are also assigned to patrol the city's business district and neighborhoods. The criminal investigations division is responsible for investigating crimes and apprehending criminals. The division works hundreds of cases per year including domestic and sexual crimes, robberies, assaults and other serious crimes. The K9 division's duties include performing criminal interdiction, narcotics searches, criminal apprehension and serving high risk warrants. The SORT division is the special operations response team. These officers have the responsibility of responding to any high-risk situations and police calls. The team is composed of tactical members, snipers, canines, a crisis negotiator and tactical medics.
The overall crime rate in Fayetteville is 58% higher than the national average. The violent crime rate in Fayetteville is 98% higher than the national average. The residents of Fayetteville have a 1 in 26 chance of becoming a victim of a crime. Fayetteville is statistically safer than 7% of cities in the United States and safer than 12% of cities in the state of Tennessee.
The annual crime rate in Fayetteville per 100,000 people was 3,931 in the year 2019. Of the 3,931 crimes committed there were approximately 56.8 rapes, 28.4 robberies, 667 assaults, 340.6 burglaries, 2,682 thefts and 156.1 vehicle thefts. The year over year crime rate has decreased by 12%. Fayetteville is rated "F" in public safety.
Richard Howell, Chief of Police
Phone: 931-438-7771
Fayetteville Police Department
225 East College Street
Fayetteville, TN 37334
Phone: 931-438-7772
Population Served: 7,000
Number of Officers: 25