Inmate Record Check
Arrests, Mugshot, Recent Bookings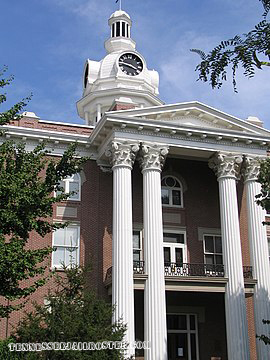 Perform a free Tennessee inmate records search, including jail rosters, persons in custody, recent arrests, mugshot lookups, and active booking logs.
The Rutherford County Detention Center is a minimum to maximum security facility which houses adult inmates who have been charged with misdemeanor and felony crimes. All inmates are awaiting trial or serving their sentence. The maximum sentence for inmates to be housed at the center is 8 years. The capacity of the facility is 956.
Rutherford County Detention Center
940 New Salem Road
Murfreesboro, TN 37129
Phone: 615-898-7774
How to Send Mail to an Inmate
Inmates are allowed to receive letters through the U.S. Postal Service or through email provided by a 3rd party company. To send emails and texts to inmates, visit the TBE Jail website. All physical mail will be searched for contraband.
Inmate Name
Inmate Number
940 New Salem Road
Murfreesboro, TN 37129
Commissary deposits can be made in person at the Rutherford County Sheriff's Office. Kiosks are located in the Visitation Lobby and the Warrants Lobby. The kiosk is available from Tuesday to Sunday from 8:15 am to 4 pm.
Visitation Hours
Friends and family are allowed to visit inmates once they undergo a background check. Visitors must not have a felony record. Inmates are allowed to receive two 45 minute visits per week. Visitation must be scheduled in advance through a 3rd party company called VendEngine. All visits are via video recording on the website.
Monday-Sunday: 8:15 am, 9 am, 10 am, 11 am, 12 pm, 1 pm, 2 pm and 3 pm
The Warrants Division staff keeps arrest warrants obtained by officers to serve on suspects in criminal cases. At this time, the Rutherford County Sheriff's Office does not offer a public warrant search. For information on warrants, contact 615-904-3030.
Police and inmate records are available through the Rutherford County Sheriff's Office. Record requests must be submitted in person at the Records Division inside the Sheriff's Office. The Rutherford Sheriff's Office does not provide background checks for the public.