Inmate Record Check
Arrests, Mugshot, Recent Bookings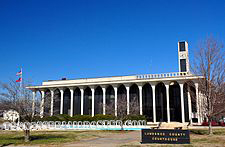 Perform a free Tennessee inmate records search, including jail rosters, persons in custody, recent arrests, mugshot lookups, and active booking logs.
The Lawrence County Jail is a minimum to maximum security facility and houses adult inmates who have been charged with misdemeanor and felony crimes. All inmates in custody are currently awaiting trial or serving out their sentence. The facility was opened in 2009 and has an inmate capacity of 262.
Susan Taylor, Jail Administrator
Email: [email protected]
Lawrence County Jail
240 West Gaines Street, NBU #8
Lawrenceburg, TN 38464
Phone: 931-762-3646
How to Send Mail to an Inmate
Inmates are allowed to receive mail sent through the U.S. Postal Service. All mail will be searched for contraband.
Inmate Name
Lawrence County Jail
240 West Gaines Street, NBU #8
Lawrenceburg, TN 38464
Commissary can be added on an inmate's account over the phone, online, in person or via mail. To add money over the phone, call 1-855-836-3364. To add money online, visit the VendEngine website. Deposits can be made in person at the jail using the kiosk in the lobby. Money orders can be sent through the mail. Money orders must be filled out with the inmate's name and the facility locator number. The mailing address is as follows:
Inmate Name, Facility Locator Number 32
Chilton Vending
PO Box 31
Pleasant View, TN 37146
Visitation Hours
Inmates at the Lawrence County Jail are allowed 2 thirty minute visits per week. Each thirty minute visit can have a total of three visitors. All visits are on a first come, first served basis. Visitation days are based on which pod the inmate is housed in.
A and D Pods: Saturday and Sunday, 9 am to 9 pm
B Pod: Wednesday and Thursday, 9 am to 9 pm
C Pod: Monday and Tuesday, 9 am to 9 pm
Lawrence County offers a free records search online. The public can search for any criminal or civil case information and documents that have occurred in Lawrence County.